Join Mission this September and October on
Instagram
where we will participate alongside other advocates, communities, charities and organizations to increase awareness and raise money to support the Breast Cancer Research Foundation.
#1Mission1Cure
---
DO YOU KNOW WHEN BREAST CANCER AWARENESS MONTH WAS ESTABLISHED?
Breast Cancer Awareness Month began in 1985. During the month of October, breast cancer survivors and those with breast cancer are celebrated and encouraged to share their stories. The month is also dedicated to raising funds for breast cancer research and other related causes.
Source:
Breast Cancer Consortium – Archives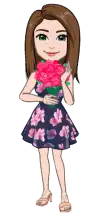 Breast Cancer Awareness Season has begun
This time every year advocates come together around the world to raise awareness and funding for breast cancer research. Everyone who supports Breast Cancer Awareness Month has the goal that lives will be saved and one day a cure for breast cancer will be found.
It's now the 3rd week of September, and that means advocates worldwide have begun to rally, deploying strategies they have been cultivating all year in hopes of inspiring people to donate and take action.
Their efforts include massive Pink Campaign that feature awareness banners, educational + downloadable media kits, pink ribbons, and other creative breast cancer themed keepsakes and giveaways.
COVID-19 Devastates Cancer Organizations Funding
The pandemic hit funding of Medical Charities, Organizations, and Research Institutes hard when it forced the cancellations of major annual events. Charities like the National Breast Cancer Foundation and The American Cancer Society who rely on annual galas, competitions, tournaments, and events to fund their operations are now facing significant shortages financially.
The loss of funding has forced many non-profits to have to, in some cases,  cut 30% of their budget, leaving approximately 1,000 staff without work nationwide.
This year's NBCAM organizers have to compensate for pandemic turbulence and social distancing in their efforts to reach donors. Both factors impact the personal connections usually made at in person and on location public events.
It's going to be interesting to see what kind of digital campaigns roll out over the next several weeks on social media, news outlets, mailboxes and inboxes, and on the other side of the coin, what the response will be.
Digital Platforms Offer Hope to Reach Donors
But now, meeting platforms such as Microsoft Teams, Zoom, Google Hangouts and join.me have become popular for hosting campaign meetings and communications, and social media influencers  are using resources like live streaming video and creativity to build awareness of events, bring out the heavy-hitting donors, keep supporters informed, promote efforts, and support campaigns. 
October 1st is the official kick off off Breast Cancer Awareness Month
Before the pandemic parks, community centers, streets, and homes would have been filling up with advocates (arriving in all shades of pink) making  preparations for collectively hosting hundreds of thousands of Breast Cancer Awareness Month supporters.
October 1st breast cancer survivors, fighters, families and friends come out and begin stepping onto stages. One after another in front of the masses, portraying the visual reminder why we are all doing this. Then, with the lighting of the first luminaria, figuratively speaking, they begin to share their stories and they keep sharing endlessly and with so much courage and hope to all that will listen for as long as they'll listen in hopes that people will see and feel what cancer looks like and what it does to families.
The hearts and wallets of the crowds begin to open and lives are changed. It truly is a remarkable cause led by many remarkable people trying to change the world.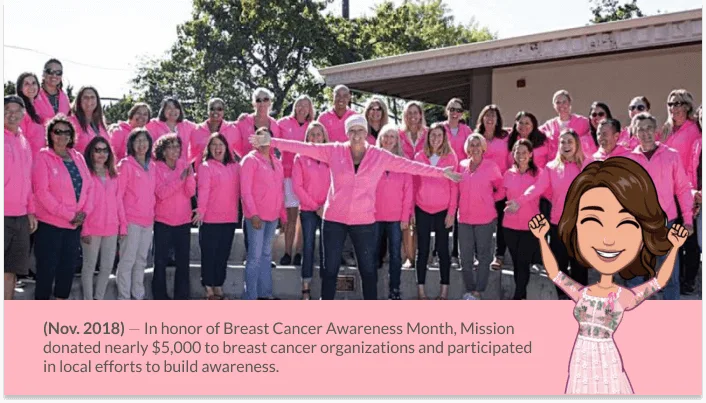 ---
Mission Linen Supply has proudly participated in Breast Cancer Awareness Month every October, for the past 4 years. Each year we explore new and creative ways to maximize our efforts and contributions.
This year we will promote our annual pink apparel fundraiser online and use social media outlets, communities, and communication platforms like never before to run giveaways and contests to raise awareness and funding for cancer organizations.
Join Mission Online for
National Breast Cancer Awareness Month
To help cancer-fighting organizations facing financial shortages we are using our communication platforms to call on Social Media Influencers and Bloggers to join us. Use your voices, platforms, resources, and influence to help bring in donors.
This is a special opportunity to stand together virtually in solidarity with cancer patients, to let them know we have not given up, we have not let the fight fade because of COVID-19.
Please follow Mission on Instagram this September thru October for an opportunity to participate in our Pink Mask Giveaway and Instagram photo Contest.
If you'd like to help us make a bigger difference, below are some suggested ways you can help us expand our efforts to spread awareness and raise funding:
Share our blog Post: https://www.missionlinen.com/news-media/NBCAM2020-1mission-1cure
Out fit your employees or organization in pink swag from our Pink Apparel shop - every item sold is a donation made to the Breast Cancer Research Foundation.
Like, Share, Follow, and Tag us on Social Media
Add our Giveaway and Photo Contest Posts to your stories or feed to promote our efforts and amplify our ability to spread awareness.
Participate and Tag your friends in our Instagram Giveaway and Photo Contest running 9/23-10/31. *follow us on instagram or facebook for details coming soon.
Create a blog, personalized video or social media post showing your support for our Breast Cancer Awareness Fundraising Efforts and letting your audience know how they can support us.
Encourage your followers and audiences to donate resources, care packages, or money to the National Breast Cancer Research Foundation
"Thank you to all of those who have come out to support us in the past. We hope this year you will join us again on our mission to keep hope for a cure alive."
"Knowing that this disease exists is not enough, we must fight until a reason to fight no longer exists."