Uniform Rental Services –
for every industry.
We offer a wide selection of quality uniforms, workwear and apparel for every industry, style, and budget. Our full-service capabilities cover everything from picking up your uniforms, to delivering fresh, clean, and pressed uniforms, custom uniform branding and personalization services, and employee apparel programs that let your employees shop pre-approved uniforms online and get them shipped directly to their door step. Contact an expert Mission representative today to see how we can save you time and money by becoming your one-stop shop of all your uniform, workwear, and apparel needs.
Our extensive line of
workwear

for rent






























































There's
MORE
to
Mission
- start today!
Uniform Branding

and Personalization Services
Company name recognition is key to every business no matter what industry you're in. Personalized uniforms can boost your company or organizations brand awareness by increasing the visibility of your company's logo or emblem through uniformed staff and employees. Employees that wear branded uniforms also take on a great sense of pride and responsibility when wearing them; they know that they represent your brand or business when they wear your company's uniform, and this translates to better productivity and performance in their respective roles.
In addition to improving workplace performance, personalized or branded uniforms and apparel increase customer confidence in working with your business by improving the perception of a company's service or products. Branded uniforms have a way of projecting competence and knowledge in your field of specialization.
Whether it's automotive or industrial work shirts, hotel and hospitality polos or oxford dress shirts, or restaurant service apparel like aprons and chef wear; we can personalize it. We are your one-stop shop for expert silk screen printing, custom logo, and emblem embroidery services.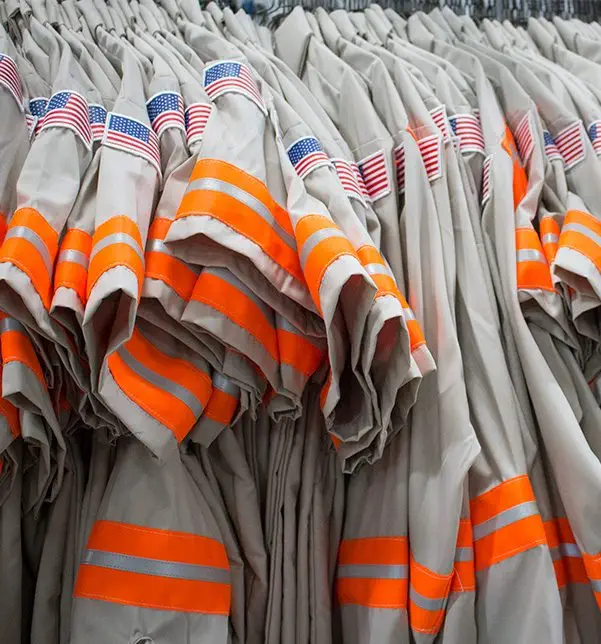 Buying

Uniforms  vs. 

Renting

Uniforms
Due to growing environmental concerns, a significant percentage of business and corporations are embarking on employee uniform programs. Wearing uniforms to work means less professional wardrobe items to buy, which translates to cost savings and reduced solid waste. But the decision to outfit your employees with uniforms does not stop here – you need to decide whether buying or renting uniforms will be the best option.
Coming up with the right choice largely depends on the type of business you are engaged in. The number of people you employ is also a significant factor to consider. Whether you choose to rent or purchase, Mission Linen Supply can develop uniform programs that meet your expectations of quality, appearance and durability.
Our styles number in the hundreds and meet the needs of those in a variety of workplaces. We provide safety apparel and flame resistant garments, as well as work shirts, jackets, chef wear and casual clothing to meet your specific requirements. Learn More
Give your business a professional image that stands above the rest! To purchase uniforms or learn more about our uniform rental programs, get in touch with us today.
Call Us Today - (800) 944-5539